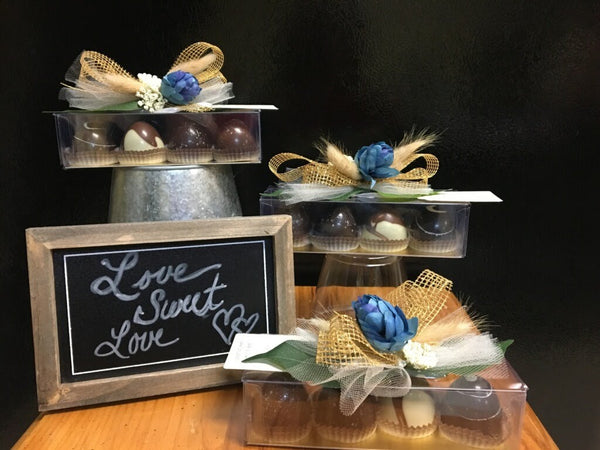 Featuring Special Gifts
We enjoy creating party favors for your special occasion- 
Showers 
Weddings
Retirements
Graduations
Visit our main store in Hammonton or call 609-270-7271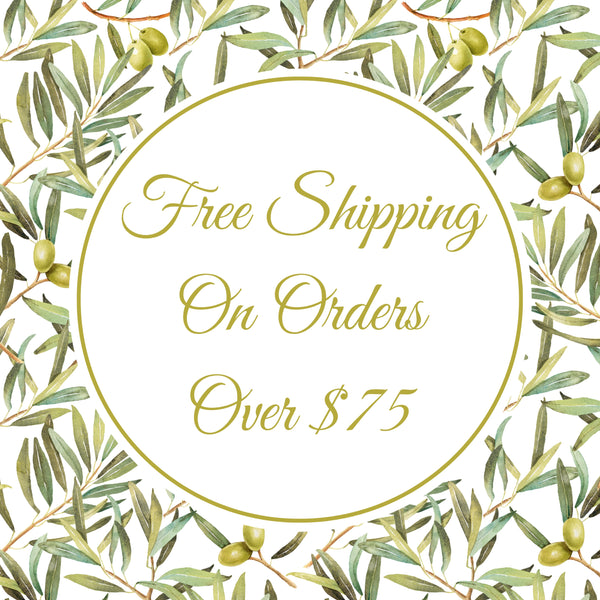 $11 Flat Rate for orders under $75
United States Postal Service (USPS) Priority Mail shipping on all orders over $75 is free for orders being shipped within the continental U.S. (This discount applies automatically when shipping to one address.)
WHERE EACH UNIQUE FLAVOR TELLS A STORY....
We invite you to visit our Exquisite Olive Oil Tasting Lounge
TASTE THE DIFFERENCE!
We source the finest extra virgin olive oils and balsamic vinegars in the world to offer to our customers in our downtown Hammonton shop and to all those visiting our online store. We ensure we have the freshest, purest extra virgin olive oil available at all times! 
We are very proud to have won the 2017 & 2018 Hammy Awards for Best Gift Store and Candy Store.
Make any occasion extra special with the unbelievable Gourmet Gifts and Gift Baskets from Tales of the Olive.
We have assembled some of our finest products in themed sets and arrangements that will make ideal gifts for your valued business clients, employees, and family members. Each of our exclusive gifts has been selected with the utmost care and packaged with attention to detail for any special occasion that demands the best in quality. Everyone will appreciate the pure, natural, and healthy gift of Olive Oil and aged balsamic.  We can include some of our gourmet spices, teas, honeys, jams, candies, pastas, olive wood products or skincare products in our gift baskets.
Below are some of our wide selection of items available in our store.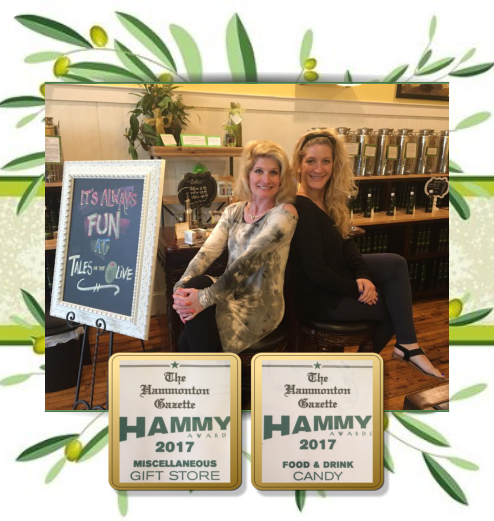 Tales of the Olive, LLC
218 Bellevue Avenue
Hammonton, NJ 08037
(609) 270-7271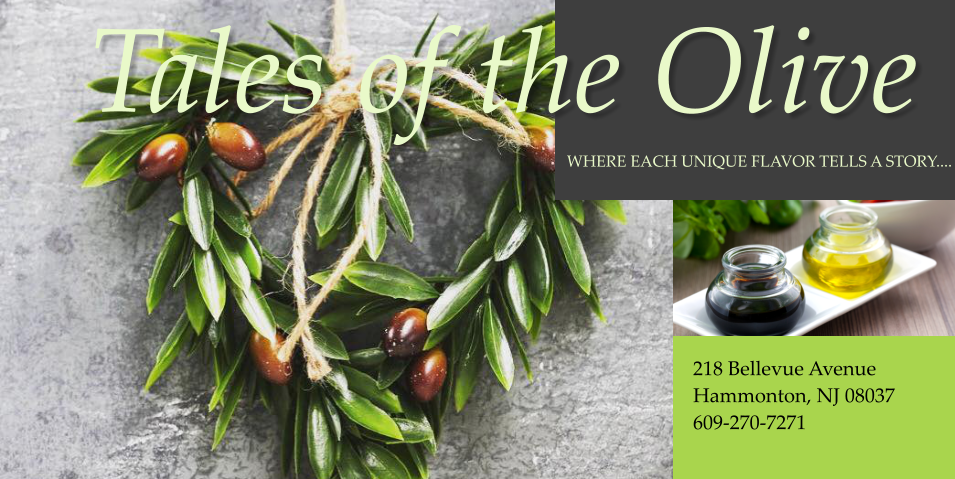 Stop into our store or call ahead and let us show you all of our beautiful gift options!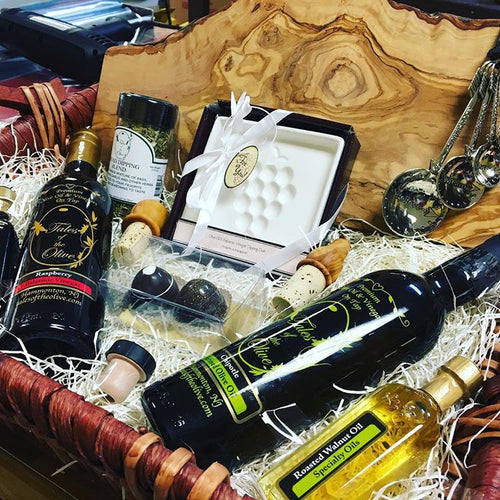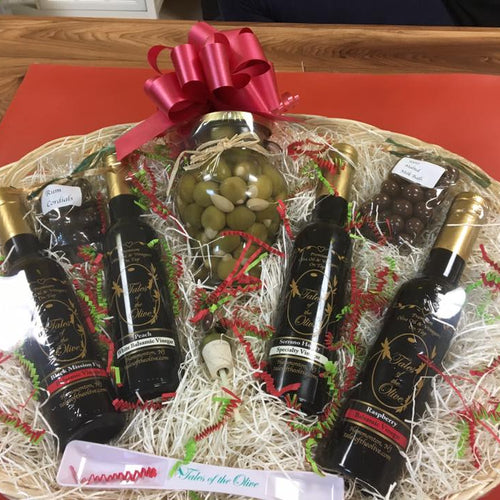 Testimonials
Truly unique and lovely! We were very lucky to have a personal tour and tasting with store owner Kelly. She was a total delight and very knowledgeable of the wonderful extra virgin olive oils,and the gourmet selection of Balsamic Vinegar's! Plus there so many wonderful flavors of both Olive Oils and Vinegar's that requires many visits to try them and and pick out your favorites! 

Ron DiPinto
What a wonderful shop added to the awesome downtown of Hammonton. The owners are great, extremely passionate about their product. You can taste everything with ease, you are sure to find something you love. They make wonderful gift baskets too. 

Robert DeRose
What great customer service & beautiful presentation. I just LOVE this store!  I must say their olive oils and vinegars are delicious and they definitely went above and beyond with the presentation. They made my gift giving so easy and beautiful.

Victoria Smith DeLaurentis
Looooove this place! We stumbled upon it as we explored downtown Hammonton. Beautiful store, great customer service and everything is delicious!!! 

Shawn Gogue
What a wonderful experience! The olive oils and vinegars are exceptional. The staff friendly and helpful. I'm from out of town and I will definitely be back.. 

Melinda Stano
Absolutely wonderful! Beautiful shop with fantastic oils, vinegars, pastas, seasonings, you name it! Definitely worth the stop in! You'll be pleasantly surprised! 

Victoria Rizzotte
I love this store!  So much to choose from. A definite stop to buy gifts for family and friends. Staff is very friendly. Nice addition to Downtown Hammonton.

Jose Diaz
Visit our 2nd Location
Williamstown Farmer's Market & Village Shops
701 N. Blackhorse Pike
Williamstown, NJ 08094
Our Williamstown Store Hours:
Thurs: 9-5, Fri: 9-6, Sat: 8-4
(Our Hours Do Not Reflect The Amish Market's Hours)
Mini Tales Store Info and Map
More Information
Recipes
Explore olive oil recipes featuring our flavorful and nutritious products. Choose from main dishes, sides, desserts & more!
Click Here for Recipes

News & Events
Check specials events at our store or other locations we will be at.
Click Here for News & Events
Skin Care Products
All of our products utilize Extra Virgin Olive Oil, which is known for its regenerative power over skin tissue.